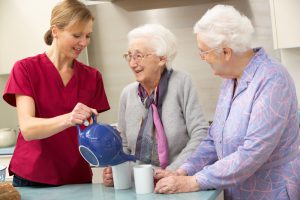 Families face many challenges when a loved one is unable to perform basic daily living tasks without assistance.  Dressing, eating, or climbing the stairs can become difficult without support and encouragement. This may occur as a result of injury, illness or a medical condition, or simply as part of the aging process.
That's why Parallel Home Care offers Personal Care Services. Our compassionate and trustworthy caregivers are available to assist with companionship and routine activities to help with daily living. We're here to give you peace of mind, a little respite and relief knowing that your loved one is in good hands.
Personal Home Care Services
Our services to assist in daily activities include, but are not limited to the following:
Bathing
Grooming
Morning routines and dressing
Mobility, bed/wheelchair transfers
Toileting
Medication Reminders
Personal Care and hygiene
Meal Preparation
Take walks
Light housekeeping
Bed making/change linens
Grocery shopping
Check food freshness/Clean refrigerator
Meal Planning
Assistance with eating
Wash dishes
Take out garbage
Rent movies
Read the newspaper
Read mail
Laundry and ironing
Play cards
Go to the park
Write letters
Plant care
Attend a religious service
Discuss current events
Organize bills/household
Visit library
Arrange lawn service
Light errand services
Birthday reminders
Pet care assistance
Friendship and socialization
Water plants
Pick up prescriptions
Go to the post office
For more information on our home care services in Chippewa, Luce, Schoolcraft, Alger and Marquette Counties, please call us at (906) 273-1169.